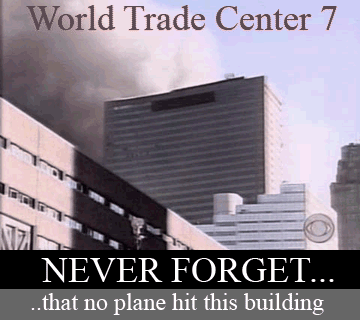 David Ray Griffin
Published May 27, 2010
911Truth.org
At 5:21 PM on 9/11, Building 7 of the World Trade Center collapsed, even though it had not been hit by a plane – a fact that is important because of the widespread acceptance of the idea, in spite of its scientific absurdity, that the Twin Towers collapsed because of the combined effect of the impact of the airliners plus the ensuing jet-fuel-fed fires. The collapse of World Trade Center 7 (WTC 7) thereby challenges the official account of the destruction of the World Trade Center, according to which it was accomplished by al-Qaeda hijackers, even if one accepts the government's scientifically impossible account of the Twin Towers. This fact was recently emphasized in the title of a review article based on my 2009 book, The Mysterious Collapse of World Trade Center 7,1 by National Medal of Science-winner Lynn Margulis: "Two Hit, Three Down – The Biggest Lie."2
1. Why the Collapse of WTC 7 Created an Extraordinary Problem
The collapse of WTC 7 created an extraordinary problem for the official account of 9/11 for several reasons.
An Unprecedented Occurrence
One reason is that, because of the collapse of WTC 7, the official account of 9/11 includes the dubious claim that, for the first time in the known universe, a steel-frame high-rise building was brought down by fire, and science looks askance at claims of unprecedented occurrences regarding physical phenomena. New York Times writer James Glanz, who himself has a Ph.D. in physics, wrote: "[E]xperts said no building like it, a modern, steel-reinforced high-rise, had ever collapsed because of an uncontrolled fire." Glanz then quoted a structural engineer as saying: "[W]ithin the structural engineering community, [WTC 7] is considered to be much more important to understand [than the Twin Towers]," because engineers had no answer to the question, "why did 7 come down?"3
Visual Evidence of Implosion
Equally remarkable, besides the mere fact that this building came down, was the way it collapsed: straight down, in virtual free fall, making the destruction of this building appear to be an example of the type of controlled demolition known as "implosion," in which explosives and/or incendiaries are used to slice the building's steel support columns in such a way as to cause the building to collapse into its own footprint. CBS anchor Dan Rather, not one to let a remarkable fact go unremarked, said:
"[I]t's reminiscent of those pictures we've all seen . . . on television . . . , where a building was deliberately destroyed by well-placed dynamite to knock it down."4
Dan Rather, moreover, was not the only reporter to make such a comment. Al Jones, a reporter for WINS NYC News Radio, said: "I turned in time to see what looked like a skyscraper implosion – looked like it had been done by a demolition crew."5
Moreover, whereas Jones and Rather, being laymen in these matters, merely said that the collapse of Building 7 looked like a controlled demolition, experts, upon seeing the video, could tell immediately that it actually was a controlled demolition. In 2006, for example, a Dutch filmmaker asked Danny Jowenko, the owner of a controlled demolition company in the Netherlands, to comment on a video of the collapse of WTC 7, without telling him what it was. (Jowenko had been unaware that a third building had collapsed on 9/11.) After viewing the video, Jowenko said: "They simply blew up columns, and the rest caved in afterwards. . . . This is controlled demolition." When asked if he was certain, he replied: "Absolutely, it's been imploded. This was a hired job. A team of experts did this."6
Testimonies about Explosions
Besides the obviousness from the very appearance of the collapse of Building 7 that it was a product of controlled demotion, there were testimonies about explosions in this building.
One of these was provided by Michael Hess, New York City's corporation counsel and a close friend of Mayor Rudy Giuliani. While on his way back to City Hall, Hess was stopped for an interview at 11:57 that morning, during which he said:
"I was up in the emergency management center on the twenty-third floor [of WTC 7], and when all the power went out in the building, another gentleman and I walked down to the eighth floor [sic] where there was an explosion and we were trapped on the eighth floor with smoke, thick smoke, all around us, for about an hour and a half. But the New York Fire Department . . . just came and got us out."7
Hess thereby reported a mid-morning explosion in WTC 7.
The other gentleman, Barry Jennings of the New York City Housing Authority, reported the same thing during another on-the-street interview, reporting that he and "Mr. Hess" had been walking down the stairs when they became trapped by a "big explosion."8 Jennings, in fact, said that explosions continued going off while they were waiting to be rescued.9
There were also reports of explosions in the late afternoon, just as WTC 7 started coming down. Reporter Peter Demarco of the New York Daily News said:
"[T]here was a rumble. The building's top row of windows popped out. Then all the windows on the thirty-ninth floor popped out. Then the thirty-eighth floor. Pop! Pop! Pop! was all you heard until the building sunk into a rising cloud of gray."10
NYPD officer Craig Bartmer gave the following report:
"I was real close to Building 7 when it fell down. . . . That didn't sound like just a building falling down to me . . . . There's a lot of eyewitness testimony down there of hearing explosions. . . . [A]ll of a sudden. . . I looked up, and . . . [t]he thing started pealing in on itself. . . . I started running . . . and the whole time you're hearing 'boom, boom, boom, boom, boom.'"11
A New York University medical student, who had been serving as an emergency medical worker that day, gave this report:
"[W]e heard this sound that sounded like a clap of thunder. . . . [T]urned around – we were shocked. . . . [I]t looked like there was a shockwave ripping through the building and the windows all busted out. . . . [A]bout a second later the bottom floor caved out and the building followed after that."12
Click to read more about how the destruction of building 7 was hidden in plain sight.