NYT reports in 2012 FBI's habit of fabricating terror attacks to make high-profile arrests – now Boston suspects' family claims sons were led every step of the way by the FBI.
Tony Cartalucci
Infowars.com
April 21, 2013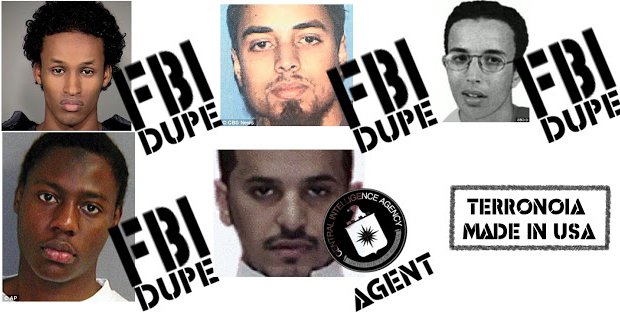 In an April 2012 New York Times article titled, "Terrorist Plots, Hatched by the F.B.I.," it is revealed that many of the high-profile terror attacks foiled by the FBI, were in fact fabricated from start to finish by the FBI itself. The article states:
The United States has been narrowly saved from lethal terrorist plots in recent years — or so it has seemed. A would-be suicide bomber was intercepted on his way to the Capitol; a scheme to bomb synagogues and shoot Stinger missiles at military aircraft was developed by men in Newburgh, N.Y.; and a fanciful idea to fly explosive-laden model planes into the Pentagon and the Capitol was hatched in Massachusetts.
But all these dramas were facilitated by the F.B.I., whose undercover agents and informers posed as terrorists offering a dummy missile, fake C-4 explosives, a disarmed suicide vest and rudimentary training. Suspects naïvely played their parts until they were arrested.
The report would also reveal that a fabricated, then foiled attack in Portland in 2010, even included a van and an inert bomb parked next to a real crowd of thousands during the city's annual Christmas tree lighting ceremony:
When an Oregon college student, Mohamed Osman Mohamud, thought of using a car bomb to attack a festive Christmas-tree lighting ceremony in Portland, the F.B.I. provided a van loaded with six 55-gallon drums of "inert material," harmless blasting caps, a detonator cord and a gallon of diesel fuel to make the van smell flammable. An undercover F.B.I. agent even did the driving, with Mr. Mohamud in the passenger seat. To trigger the bomb the student punched a number into a cellphone and got no boom, only a bust.
Indeed, the only missing ingredient separating Portland from Boston, was the FBI's decision of what to fill the 55-gallon drums with. (For more details on other FBI cases, see: FBI's History of Handing "Terror Suspects" Live Explosives)
The NYT piece continues, describing how the FBI picks its targets:
Typically, the stings initially target suspects for pure speech — comments to an informer outside a mosque, angry postings on Web sites, e-mails with radicals overseas — then woo them into relationships with informers, who are often convicted felons working in exchange for leniency, or with F.B.I. agents posing as members of Al Qaeda or other groups.