May 19, 2015
by Dave Lindorff
WhoWhatWhy.org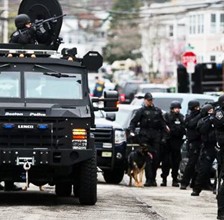 In the wake of civil unrest this year spurred by deaths of black suspects in police custody, on May 18, 2015, President Obama made a surprise announcement to limit police militarization. This topic is not new to WhoWhatWhy readers. We first brought you the story of the disturbing trend of police departments arming themselves with surplus weapons from the battlefields of Afghanistan and Iraq in February 2014.
If you're a small town or perhaps a university security department, the US Department of Defense has got a deal for you!
BearCat in Boston lockdown.
Thanks to the ending of the Iraq War, and the winding down of the war in Afghanistan, the Pentagon has 11,000 heavily armored vehicles that it has no use for. Called MRAPs—Mine-Resistant Ambush Protected—they are designed to protect against AK-47s, rocket-propelled grenades and IEDs. And as pitchman Paul Richards used to say of the '69 Pontiac Firebird, "They're practically giving them away!"
Correction, they are giving them away.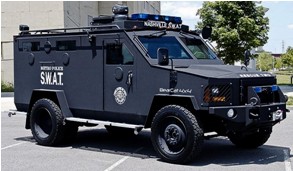 All a local police department has to do to get itself an 18-ton MRAP—which originally cost taxpayers between $400,000-$700,000 complete with gun turret and bullet-proof windows—is send a few cops to pick it up and pay for the gas.
There are a few downsides: the things get only five miles to the gallon, can't go over most bridges, or under them, and have a nasty habit of tipping over on rough terrain.
For departments that find them too unwieldy, the Homeland Security Department is also offering grants to communities so they can buy smaller Lenco BearCats, lighter armored military-style vehicles that run about $280,000.
Since last summer, police departments across the country have taken possession of 165 DOD surplus MRAPs, and there are another 731 requests for the 14-foot-high vehicles. Even Ohio State University police got their hands on one, saying it would provide a "police presence" at football games. Most of the rest of the vehicles to date have gone to smaller community police forces—everywhere from Farmington, NM (pop. 45,000) to Hamburg Village, NY (pop. 9,500).
The number of BearCats purchased with Homeland Security grants isn't readily available, but they were on conspicuous display in and around Boston last year during the metro-area-wide martial law lockdown while police and National Guard searched for Dzhokhar Tsarnaev, the wounded and unarmed 19-year-old suspect in the Boston Marathon bombing.
For the most part, Americans don't seem to question the use of military vehicles by their local police, but some communities are starting to object. In Concord, New Hampshire, for instance, 1500 residents last fall signed a petition opposing their town's use of a $258,000 federal Homeland Security grant to purchase a BearCat for the local police department.
The Concord Monitor reported that most of those opposing the purchase said they feared further militarization of their local police. Despite the opposition, the town government went ahead with the acquisition anyway.