January 4, 2015
Bill Blunden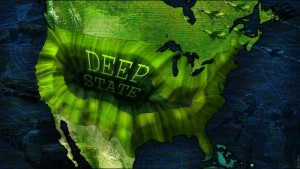 "Double government." Walter Bagehot coined the term in his 1867 book, The English Constitution. He hypothesized that British government had split into two separate layers. On the outer surface were high-profile "extrinsic" institutions such as the House of Lords, which gave the appearance of being in charge. On the inside were less conspicuous organs of government, such as the House of Commons, that actually ran the show.
Expanding upon Bagehot's ideas is Michael J. Glennon, a professor of international law at Tufts University. Glennon has written "National Security and Double Government", a book which argues that a similar double government has emerged in U.S. politics.
Regarding national security, Glennon contends that "judicial review is negligible, congressional oversight dysfunctional, and presidential control nominal."[i] Instead, he says, the actual decision-making is performed by "several hundred executive officials who manage the military, intelligence, diplomatic, and law enforcement agencies"[ii] that are "slowly tightening centralized power, growing and evolving organically beyond public view." [iii] (Read WhoWhatWhy's first take on Glennon here)
But are elected officials such as the President truly hostages to murky, unseen elements within government?
Congressional investigations, leaked classified documents, and statements by former intelligence officers paint a completely different picture. Far from being out of control, the public record indicates that security services are obedient arms of the executive. And, further up the chain of command, the executive itself is responsive to profound sources of private influence residing outside of government.

Contradiction: The Obedient CIA
In the 1970s it came to light that the CIA, contrary to its charter, had been heavily involved in a domestic operation known as MH/CHAOS.
A series of formal investigations, one led by Senator Frank Church and another by House Representative Otis Pike, followed and arrived at the same conclusion with regard to chain of command. The Pike Committee report stated that the CIA was "utterly responsive to the instructions of the President." Likewise, the Church Committee found that "the President has had, through the National Security Council, effective means for exerting broad policy control over at least two major clandestine activities—covert action and sensitive technical collection" and that the CIA was "not 'out of control.'"
Members of the executive branch have admitted as much. For instance, then-Secretary of State Henry Kissinger told the Pike Committee that "every operation is personally approved by the President."