Trevor Timm
The Guardian
March 21, 2015
The lead-up to war in 2003 was filled with spin and misinformation. But today, we aren't even having the semblance of a debate about military intervention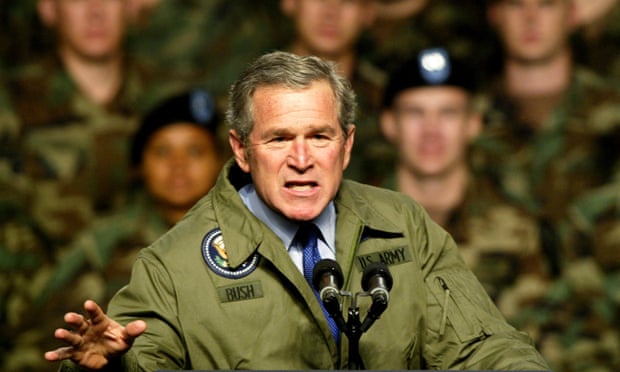 President George W Bush speaks to American soldiers 2003, a few week before invading Iraq. Photograph: Jeff Mitchell/Reuters
We invaded Iraq 13 years ago on Sunday, but you would barely know from watching the news. Perhaps because there are so many war anniversaries these days it's hard to keep track, or perhaps, it's because our country has learned virtually nothing from the biggest foreign policy debacle of our generation.
The US government celebrated the Iraq war anniversary by announcing that they were sending more troops to the country. Remember this is a war that supposedly "ended" more than three years ago, yet thousands of troops have been sent back there since late 2014 to fight Isis, a group whose creation can be directly tied to the first Iraq war – or I guess the second one, depending on how you count.
In all, the US has been bombing Iraq for 25 years, which includes the last four presidents (you can watch a montage of all four announcing their respective bombing campaigns here). And if you listen to the leading candidates for both political parties, you can bet that streak will reach five on their first day in office.
Both Donald Trump and Hillary Clinton have called for an expansion of military action in the Middle East in response to Isis. Trump has repeatedly referred to "bombing the hell out of" their oil fields, despite not being afraid to call the Iraq war a "disaster".
If Clinton learned anything from the Iraq war, it's hard to tell. She has claimed her vote for the war as a senator was a "mistake", but that didn't prevent her from leading the charge into Libya in 2011 to overthrow another dictator only to see the country fall into the hands of terrorists. She has pushed for a similar strategy in Syria to deal with Bashar al-Assad.
In a little-reported remark at a public event in November 2015, Hillary Clinton openly said the US would have to send ground troops in response to Isis.
But how many Americans know that we actually already have ground troops fighting in both Iraq and Syria, despite Obama's promise, repeated at least 16 times, that there would be no "boots on the ground" in this fight?
It's the one lesson the executive branch seems to have taken from Iraq more than any other: don't debate going to war in the public. Besides the thousands of military "advisers" currently in Iraq, covert funding of rebels in Syria, and drone strikes across the Middle East, the Defense Department has a "specialized expeditionary targeting force" engaged in active combat missions in both Iraq and Syria.