9 Apr, 2016
RT.com
The former chief judge that presided over Saddam Hussein's trial told RT in an exclusive interview how the tribunal, which was dependent on the US, lacking in legitimacy, and overshadowed by the killing of lawyers, sentenced the Iraqi strongman to death.
In November of 2006, Saddam Hussein was sentenced to death by hanging three years after a US-led "coalition of the willing" invaded Iraq, removing him from power as the country's leader. The hanging itself was carried out at the US' Camp Justice military base – an act that has been criticized by a number of governments and described by rights groups as cruel and unfair.
The tribunal leading to the death sentence was also regarded by many as a "political show" and "vengeful action," with international law experts questioning its legitimacy and fairness.
Read more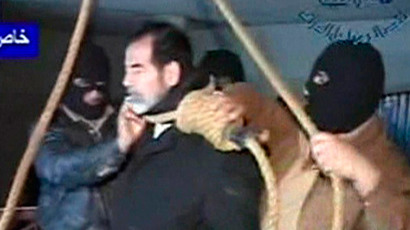 Executioners putting a noose around former Iraqi President Saddam Hussein's neck moments before his hanging in Baghdad December 30, 2006. (Reuters / Al Iraqiya) 'Execution of Saddam Hussein wasn't about justice, but about US profits.
Former Chief Judge Rizgar Amin, who oversaw the trial of Hussein and seven former members of his government, shared details regarding the notorious trial with RT. Amin, the only judge whose name was made public at the trial's opening in October of 2005, resigned in January of 2006 following pressure from the government to speed up the proceedings, according to Reuters.