By John W. Whitehead
October 12, 2016
The Rutherford Institute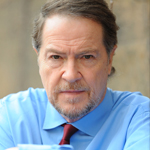 Presidents don't give up power.
Executive orders don't expire at the end of each presidential term.
And every successive occupant of the Oval Office since George Washington, who issued the first executive order, has expanded the reach and power of the presidency.
The Constitution invests the President with very specific, limited powers. In recent years, however, American presidents have anointed themselves with the power to wage war, unilaterally kill Americans, torture prisoners, strip citizens of their rights, arrest and detain citizens indefinitely, carry out warrantless spying on Americans, and erect their own secretive, shadow government.
These are the powers that will be inherited by the next heir to the throne, and it won't make a difference whether it's a President Trump or a President Clinton occupying the Oval Office.
The powers amassed by each successive president through the negligence of Congress and the courts—powers which add up to a toolbox of terror for an imperial ruler—empower whomever occupies the Oval Office to act as a dictator, above the law and beyond any real accountability.
Consider some of the presidential powers—which have been acquired through the use of executive orders, decrees, memorandums, proclamations, national security directives and legislative signing statementsexecutive orders, decrees, memorandums, proclamations, national security directives and legislative signing statements and can be activated by any sitting president—that have allowed past presidents to operate above the law and beyond the reach of the Constitution.
The power to kill. President Obama has become the "first president to claim the legal authority to order an American citizen killed without judicial involvement, real oversight or public accountability."
The power to wage war. Ever since 9/11, the United States has been in a state of endless war without Congress ever having declared one. Having pledged to end Bush's wars, Barack Obama has instead extended them.
The power to torture. The authorization of torture tactics such as waterboarding remain part of the president's domain should he or she ever choose to revive it.
The power to spy on American citizens. Directed by the President, the National Security Agency has carried out warrantless surveillance on Americans' phone calls and emails since 9/11.
The power to indefinitely detain American citizens. In 1942, President Franklin D. Roosevelt issued an executive order requiring that all Japanese-Americans be held in internment camps. Such blatantly illegal detentions could happen again. In fact, each National Defense Authorization Act since 2012 has included a provision that permits the military to detain individuals—including Americans citizens—indefinitely without trial.
The power to strip American citizens of their constitutional rights. The Bush Administration claimed it could strip American citizens of their constitutional rights, imprison them indefinitely, and deny them legal representation simply by labeling them as enemy combatants. The Obama Administration has persisted in defending the president's unilateral and global right to detain anyone suspected of supporting terrorist activities.